DM Customer Analytics(DMCA)
Futuristic analytical tool for marketing information
DMCA is a next-generation service that can process people's faces with highly anonymous information such as age and gender and sort them into customer categories users want for marketing purposes.
It can analyze a large number of visitors simultaneously, and can run pedestrian traffic surveys at intersections with large crowds coming and going without double-counting.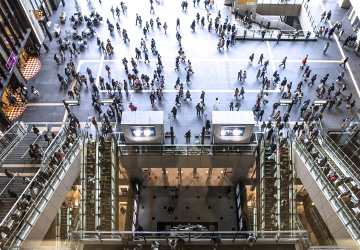 DM Digital Signage(DMDIS)
Support for flexible and effective advertising strategies
DMDIS is one of the client marketing services that utilize DMCA technology and configure it into formats easy to deploy for electronic signage.
As part of our DMDIS services, we will be able, within two or three years, to develop a system that find out instantly from the client's facial expressions whether they are satisfied or not, and whether they are saying what they really feel. That could be useful for providing appropriate services to fit the client's needs, or for helping communication with people with speech difficulties.
Usage occasions
Anonymized information: Previous purchase information, daytime local population surveys of age and gender
Client marketing: Advance measurement of customer acceptance of a new product rollout, medical treatment field