Group company DM Ayonix set up a booth at Security Show 2017 and SFM worked jointly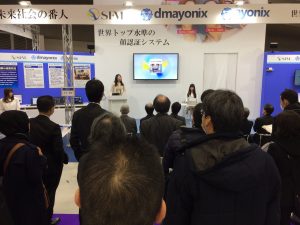 Our group set up a booth at Security Show 2017 held in Tokyo Big Sight from March 7 through 10.
On our booth stage, we gave a presentation of company profile and face recognition system and demonstrated our major products, SFM Public Security and SFM Facelogin. And we displayed the latest business examples in the overseas countries that appreciated our face recognition system technology as No.1 in the world at panels and showcased the new SFM Facio Matcher and other products.
Many visitors were astonished at the incredible speed of our face recognition system and high-performance of software without regard to the hardware.
Not only security-related companies but also public organizations and mass media paid attention to our face recognition products. We were also requested business meetings from those visitors.
Through this Security Show, the publicity of our company name and face recognition system was advanced greatly. We will work on specific business talks introduced by several visitors in the exhibition.
【About Security Show】
Security Show is one part of the annual comprehensive exhibition named "Nikkei Messe Shop, Office, House, & Urban Innovation Exhibition Japan" held in Tokyo Big Sight and organized by Nikkei Inc. to showcase the next generation products and technologies for offices, shops, and towns.
1,206 companies set up booths and about 205 thousand people visited the exhibition totally this year 2017.
Website: https://messe.nikkei.co.jp/en/ss/
【Contact】
SFM Co., Ltd.
E-Mail:info@smart-facematcher.co.jp
Tel:03-4540-1616